Packing and Moving Mistakes to Avoid
Moving has to rank in the top 10 for the most stressful events in life. Between all the packing and time-sensitive planning leading up to the move, there's not a lot of room for mistakes. Getting ready to move to or from Long Island City, NY, and need some moving tips to get you on the right track? Let Access Self Storage help you make the right decisions when packing and moving your belongings.
Moving
Avoid These 3 Common Moving Mistakes
Waiting Until the Last Minute
Procrastinating will only make things harder on you. It's best to start planning your move ahead of time—as in weeks and even months beforehand. Waiting until the last minute will lead to unnecessary stress and may cause you to leave stuff behind.
Packing Tip #1: Start packing as soon as possible. Sort your belongings, pack them a little at a time, and put yourself in prime position to have everything ready to go on time.
Keeping Items You Don't Really Need
A list of packing tips wouldn't be complete without talking about clutter. It's easy to start throwing everything you own into boxes and loading them onto the truck. But once you're at your new place, you're stuck with things that you don't really need.
Packing Tip #2: Go through your things critically to decide what you should and shouldn't keep. Make separate piles, and consider donating your excess belongings or hosting a yard sale to earn some extra moving cash.
Packing Without the Right Supplies
Before you even begin packing, it's crucial to have packing supplies on hand to make moving go smoother for you and everyone involved. You might only think about boxes and tape, but you'll ease your workload and minimize accidents when equipped with all the right materials.
Packing Tip #3: Take advantage of carts and dollies to move heavy items, and use bubble wrap and packing peanuts to protect your items in boxes. Mattress and furniture covers are also invaluable for protecting your items during transport.
Storage Units Make Packing and Moving Loads Easier
Moving in New York is hard enough; don't make it harder on yourself by waiting until the last minute or packing without having the right supplies. Avoid some of these common packing and moving mistakes by planning ahead, banishing the clutter, and using self storage units to your advantage. With storage space in Long Island City, NY, you can place your items in a unit and bring them home as you need them, thus keeping loads of boxes out of your way as you prepare to move into your new home.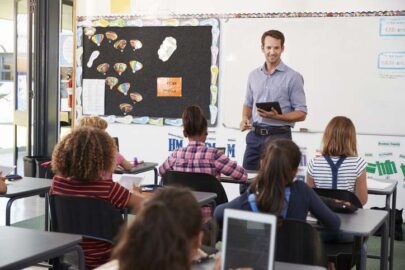 How Teachers Can Use Storage Units to Create Classroom Space
Things can get a little cramped when it comes to classroom storage. From books to backpacks, those everyday essentials can take up some serious space. Luckily, self storage units offer a practical alternative to containers and other on-site student and teacher storage options.
Read