Checklist: Steps to Take Before Officially Moving Out of an Apartment
If you're ready for a change of scenery but aren't sure what needs to be done before you leave, an apartment move-out checklist may be just what you need. Tackling these tasks will help you keep your security deposit and stay organized at the same time. The Access Self Storage team in Woodbridge, NJ, has assisted many storage unit customers manage moves, and we hope these tips help make relocating easier for you, too.
Moving
Take Care of the Future Details First
Before you start prepping for your move, go over your lease. Look for the amount of notice needed, any fees associated with moving out, and what to expect with your security and pet deposits. Then, you can start tackling these items on your apartment move-out checklist:
Notify your landlord of your upcoming move
Change your address with the postal service and other important contacts
Schedule utility shutoff and transfer, allowing an extra day on either side for cleaning purposes
Turn in keys; get a receipt
You may also need to make arrangements for your moving van to be parked in front of your building and get street or neighborhood access if you live in a gated community.
Repair Any Damage
Improve the odds of getting your deposit back by tackling repairs to any wear and tear you've left behind. Mask pet scratches on doors with a wood crayon in a matching shade. Eliminate carpet stains with a powerful stain remover. Use spackle to cover holes from paintings and wall hangings, and paint over your handiwork in a matching color. You may need to contact your landlord for the brand and exact shade, however.
Deep-Clean Your Apartment
Go beyond routine cleaning for a great last impression. Get started early on difficult or out-of-the-way areas, or even create a clean slate by putting as much of your stuff in self storage as possible. Cleaning your apartment from top to bottom will help prevent missed spots; start by clearing any overlooked cobwebs from ceilings and corners.
In addition, don't forget to:
Spot-clean the carpet
Wash the curtains
Clean the blinds
Wipe down the blades of ceiling fans
Once you've achieved a spotless space, take pictures of the end result before the final inspection. Call your landlord to schedule a walk-through when it's convenient for both of you.
Can't Move Everything at Once? Store It with Us
Taking care of everything on your apartment move-out checklist means you're much likelier to get that hefty security deposit back (while dodging avoidable charges). Streamline the process with help from a nearby storage unit at Access Self Storage. Besides having a place to store belongings while you clean, you'll enjoy access to a free moving truck for half a day. We can even help you find a local mover! With conveniently located self storage facilities in Woodbridge, NJ, and other communities, finding a storage unit near you is never a problem. Call us today, or reserve a unit online.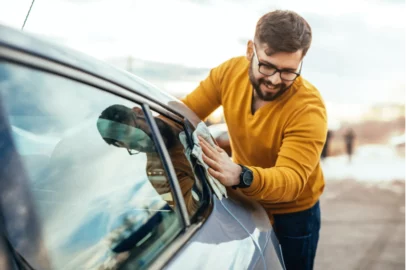 7 Tips to Prepare Your Car for Winter Storage
For car enthusiasts in cold-weather parts of the country like Little Ferry, NJ, the time is now to store your "baby" for the winter—whether it's a classic car or your summertime convertible. But before you put your vehicle into winter car storage, the following maintenance tips from Access Self Storage may come in handy.
Read