How to Set Up a Successful Garage Sale
The internet brought us countless ways to make money while unloading clutter. From eBay to Facebook Marketplace, online platforms make relatively easy work of selling unwanted items. But sometimes a garage sale makes more sense. We've helped plenty of households declutter at our self storage facilities in Clark, NJ, and other communities. Here, we're sharing our tips for a more profitable, enjoyable garage sale.
Decluttering
Planning for Your Sale
If applicable, check with your HOA. Many HOAs restrict or forbid garage sales in their communities. You'll need plenty of coins and bills for change; call your bank beforehand because some banks no longer provide rolls of coins. Leave no stone unturned when looking for items to sell. People want to see an abundance of items, and you may be surprised at how many objects it takes to fill up a table. Go through closets, dressers, the attic, your basement, and even your storage unit to find forgotten belongings.
When to Hold Your Sale
Many people are paid at the very beginning or end of each month, making this a great time for your sale. If you can tie it to a community sale, you'll get more foot traffic. Start early in the day when it's cooler and early birds are champing at the bit to buy something. End your sale by 2 p.m. when most garage sale shoppers have called it a day.
Pricing
Pricing can be tricky. While you don't want to give your things away, it's important to realize that people are looking for bargains. If you're struggling with pricing an item, set it aside or get an objective second opinion. It's better to sell something for less money than to be forced to donate it or put it in your attic or storage unit. Some people will simply pass on an item if they don't see a price, so price everything clearly using inexpensive stickers. Consider offering a discount for multiple items; for example, offer a single book for 25 cents or six for a dollar.
Presentation and Promotion
Take your cue from retail stores when displaying items. Group like items, cleaning them as needed. Place an extension cord nearby for testing electronics and a mirror for trying on jackets or accessories. Take a little time to make attractive signs complete with arrows directing customers to your home. Find cheap markers, poster board, balloons, and pricing stickers at your local dollar store. Promote your sale at least a week beforehand for free on Nextdoor, Craigslist, and Facebook. Other options include your church's weekly bulletin and the Yard Sale Search and Garage Sale Hunter sites.
Other Tips for a Successful Garage Sale:
Set up a comfy sitting area.
Place money from sales in a cash box, fanny pack, or apron.
Take money (concealed in an envelope) inside periodically.
Save plastic grocery bags and newspapers for wrapping sold items.
Gather old sheets and blankets for placing items on the ground or driveway.
Stash Your Old Treasures with Access Self Storage
Have a backup plan for unsold items. Consider contacting local thrift stores to see if they do free pickup for larger pieces. As the end of your sale approaches, tell customers you're willing to take offers on remaining items.
Need a place for other clunky-yet-essential or seasonal items? Reserve a storage unit at Access Self Storage in Clark, NJ. You can also find storage at our other facilities in New Jersey and New York.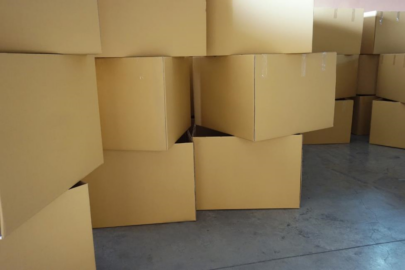 How to Keep Your Storage Unit Organized from the Start
There's a good chance that most residences and businesses in Clark, NJ deal with clutter, whether it's on a desk or in a closet. Unfortunately, many people move their clutter into self storage only to let everything become an unorganized mess over time just like it was before. If you don't want to deal with clutter in your unit, Access Self Storage has a few home and business storage tips for you to keep in mind.
Read