How Teachers Can Use Storage Units to Create Classroom Space
Things can get a little cramped when it comes to classroom storage. From books to backpacks, those everyday essentials can take up some serious space. Luckily, self storage units offer a practical alternative to containers and other on-site student and teacher storage options.
Document Storage Storage Tips
Discover how a storage unit can create space in your classroom with ideas from Access Self Storage!
Why Space Is Important in Classrooms
Many educators lament the lack of space for school supply storage. Whether you share your classroom with other teachers or simply occupy a tiny room, limited classroom storage can present a challenge when configuring your space.
Having too much stuff in the room also makes it difficult to ensure that students can comfortably walk to and from their desks. And if you occasionally mix things up by arranging desks in a circle or moving them into groups, it can get even hairier.
Self Storage Units: The Perfect Solution for Teachers
While vertical storage, hanging items from the ceiling, and other resourceful ideas can help you maximize your classroom space, there's only so much square footage available. There eventually comes a time when your room just can't accommodate one diorama or stack of homework to grade.
A self storage unit gives you breathing room and prevents a cramped feeling in your classroom. Cluttered spaces create anxiety for students and teachers alike, and too much stuff can distract everyone from the lesson plan. By keeping surplus art projects, documents, and supplies in storage, an organized space lets you focus on what really matters: teaching your students.
How to Use a Storage Unit as a Teacher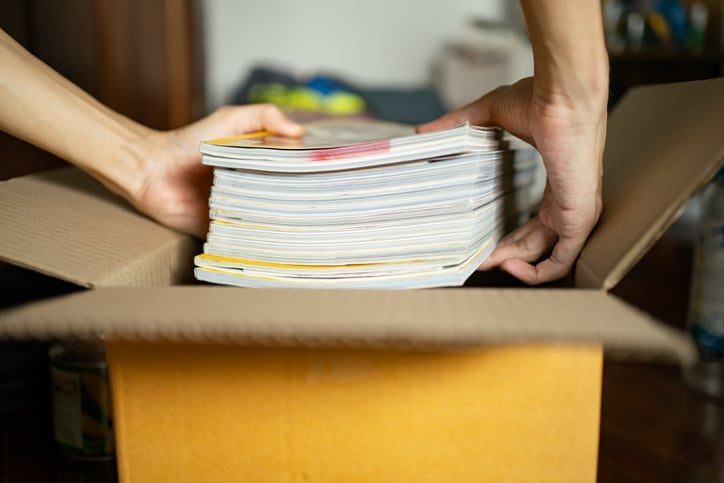 While some supplies are used daily and must be kept in the classroom, others can be stored off-site in a nearby self storage unit. Your teaching style and your students' grade level come into play here, but a storage unit can help any educator free up a lot of space.
If you already know what items tend to clog up the flow of your classroom unnecessarily, you can plan ahead. Otherwise, take note of things that tend to go unused for long periods of time to determine which supplies you do or don't need on hand. Items you know will only be used for specific projects are also prime candidates for off-site school supply storage.
Items to Place in Self Storage Units
If you're drawing a blank when it comes to deciding what to store off-site and what to place in classroom storage, consider these items:
Posters and charts
Seasonal decorations
Supplies bought in bulk
Pieces for seldom-used games
Extra rugs, blankets, and mats
Packaged candy or treats for holidays
Extra Magic Eraser sponges for wiping marks off walls
Hopscotch mats and other interactive floor mats
Of course, some objects are only suitable for climate-controlled units. Consider whether items you plan to store are temperature- and moisture-sensitive.
How to Organize Your Storage Unit
Many teachers use clear plastic containers with lids for school supply storage. Those same containers can also be used for supplies, projects, and other items you place in your storage unit. You probably already have a label maker on hand, so use it to make retrieving the items you want even easier and faster.
Even if you can see the contents through each clear container, keeping an inventory—or at least categorizing each bin—lets you quickly grab your game pieces, flashcards, extra crayons, pencils, or other classroom supplies.
How to Organize School Supply Storage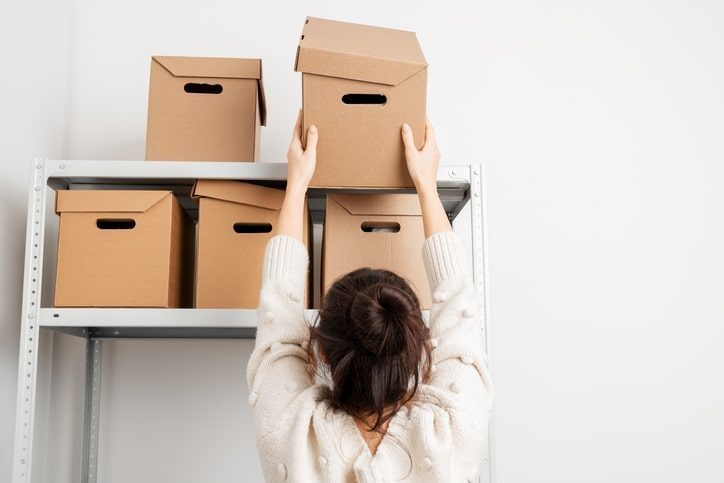 Having a plan helps keep your space organized. No matter if you jot down a layout or plot it in your head, planning the placement of your containers helps ensure that you'll know where your classroom essentials are at a moment's notice. Try these tips for tidy, logically arranged school supply storage:
Place lesser-used items at the back
Leave at least one aisle clear to keep all items easily accessible
Buy same-sized containers if possible
Place the heaviest containers on the bottom of each stack
In addition, shelving and hooks can give you even more space for all your teaching tools and accessories. Check with staff to ensure that installing hooks and other fixtures falls within your storage facility's guidelines.
Tips for Choosing the Right Classroom Self Storage Unit
Storage units are available in a wide range of sizes. From units large enough to store the contents of a house to spaces the size of a closet, there's a storage locker for every customer and every need.
At Access Self Storage, you can find storage units in multiple New Jersey and New York communities near you. We make choosing a space that's perfect for your classroom storage needs simple with our storage unit size guide. The guide ensures that you have enough room for all your essentials without overspending.
Create the Space Your Classroom Needs with Access Self Storage
From stashing wall maps and textbooks to safeguarding holiday decorations during the off-season, you need a place for surplus and seldom-used teaching helpers. Limited classroom storage space doesn't have to equal disorganization and clutter when conveniently located self storage units are available.
Access Self Storage offers secure, easily accessible school supply storage for teachers in New Jersey and New York. With amenities like curbside pickup of packing supplies as well as package acceptance, creating teacher storage is a breeze. You'll also love incentives like referral bonuses and rental discounts.
Ready to give yourself (and your students) some well-deserved elbow room? Find an Access Self Storage facility near you, then rent or reserve your unit online today.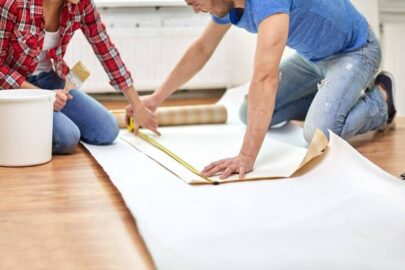 How Do I Redecorate My Home on a Budget?
You might think it's impossible to do a renovation on a budget, but it's very possible when you think outside the box. You don't have to take out a second mortgage just to give your rooms a fresh new look. With the right home decor and some careful planning, Access Self Storage is here to offer a few tips so you can start enjoying a brand-new space in no time.
Read