Electric Love: Storage for Your Devices
Today's new electronics are tomorrow's outdated gadgets. Technology is advancing rapidly everywhere, including Franklin Lakes, NJ. New features are developed for your favorite items every year, making it hard to skip out on buying the newest version. Whether it's a smartphone or a stereo, next year's model will offer something new and exciting. If you want to store your devices for a future yard sale or start a new collection, Access Self Storage has you covered.
Storage Tips
Tips for Storing Electronics
Avoid storing electronics in the basement.
Electronic devices are susceptible to the heat and cold. If you have an unfinished basement, you risk damaging your DVD players, televisions, and other electronics. It's best to store them in a stable location for maximum protection against extreme temperature damage.
Use an off-site storage unit.
Although you could store your electronics in the garage, a spare room, or a closet, they'll only take up space in your home. If you're not using them, they'll just get in the way and add to the clutter. Investing in an off-site storage unit frees up space and gives you a secure place in which to keep your devices secured away from home.
Pick a storage unit with climate control.
A storage unit with climate control protects your electronics from hot and cold weather damage. Fluctuations in the temperature may lead to warped plastic, and high heat levels could damage internal parts like circuit boards. Climate control maintains the interior temperature and protects your electronics no matter the season.
Cover the electronics with cotton sheets.
Plastic bags and tarps collect moisture, so you should always avoid wrapping valuable electronics in plastic of any kind. Covering your electronics with a cotton sheet keeps the dust off everything without blocking the airflow. Use a standard bed sheet or electronic-specific covers to maintain the airflow and protect everything from dust and debris.
Store Your Electronics With Access Self Storage
If you enjoy collecting new gadgets or plan to sell your devices later, store them with Access Self Storage in Franklin Lakes, NJ. Our climate-controlled storage units provide consistent temperatures and protect electronic devices from heat and cold damage. You can free up space in your home and rest easy knowing that your items are secured in our facility 24 hours a day.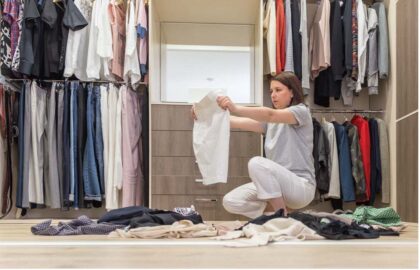 Streamline Your Closet Access by Rotating Your Wardrobe
The season is changing in Plainfield, NJ, with nasty winter weather fading away, and your closet has started to feel a bit stagnant. You want to update your wardrobe a la "out with the old, in with the new," but you aren't sure where to start. In the spirit of spring cleaning, Access Self Storage has compiled some tips to help you streamline your closet access by rotating your wardrobe.
Read