How Self Storage Can Help Your Home Renovation
Whether it's been delayed all winter or you've been putting it off for years, it's finally time to kick-start that long-overdue home renovation. As a homeowner, an accommodating storage solution...
Renovations Storage Tips
Whether it's been delayed all winter or you've been putting it off for years, it's finally time to kick-start that long-overdue home renovation. As a homeowner, an accommodating storage solution for household items during the home renovation process can be a huge asset and relieve your stress along the way.
Perhaps you're repurposing the spare room into a home office, recording studio, or gym. Or maybe it's a renovation throughout the entire home that requires more time, effort, and displacement of your belongings. Whatever the case, home renovations are serious projects worth investing in the proper care, and this includes how you protect your personal items to avoid the effects of dust, debris, and damage from the construction process.
How Do You Store Things During a Renovation?
During a home renovation, choosing the right storage space for your stuff in the interim is crucial. Below are some helpful home renovation storage tips for whatever items you might need to keep out of the way.
Create a Designated Renovation Storage Area in Your Home
Set aside a specific area in your home where you can store items during the renovation. This could be a spare room or corner of a garage. If you do this, make sure to label everything so you can easily find it later. When moving furniture out of the way, using furniture sliders will not only make them easier but also prevent damage to your floors.
Create a Storage Inventory
Getting a grasp on how much you will need to put into storage is a great way to stay organized during your renovation. Sorting and documenting items by category and room can help determine your home renovation storage strategy. This is also a good time to take any necessary measurements, too.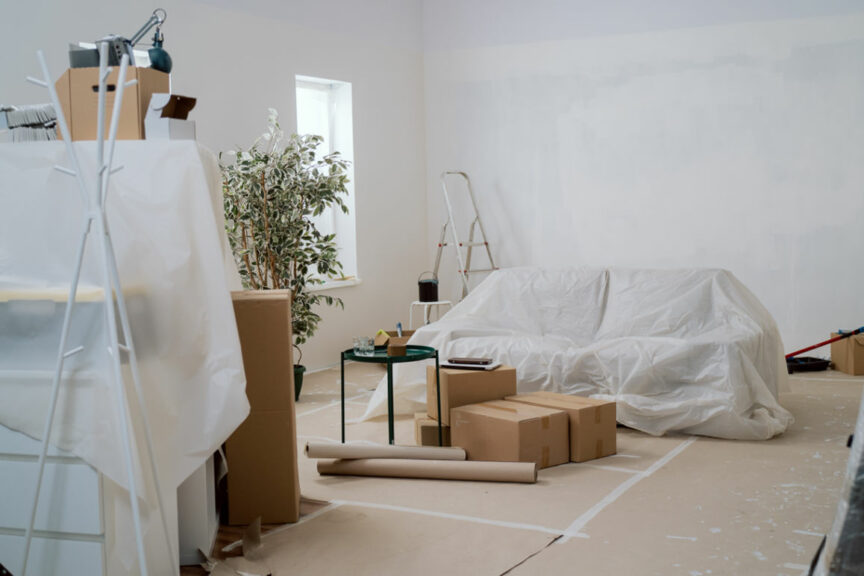 Cover Furniture
If you are unable to relocate furniture from the area of your home that is being renovated, make sure to protect it with plastic wrap or drop cloths. This will help shield your furniture from spills and stains, as well as accidental bumps and scratches.
Pack Strategically
When packing for storage, keep in mind the things you'll need to access first as soon as the renovation is complete. Using a bold marker, label your boxes with their corresponding rooms and contents.
In general, here's how to approach packing items from different rooms of the house:
Bedrooms. Cover and wrap mattresses for protection during storage. Take apart bed frames and headboards, protecting them between cardboard or bubble wrap. Store wall art, mirrors, lamps, and other delicate items between cardboard or soft wrapping material as padding. Store clothes, fabrics, bed linens, and rugs in plastic containers.
Living areas. Wrap electronics like TVs in protective wrap, with cardboard guarding the screens, and in a climate-controlled storage unit, if possible. Wrap large furniture in plastic, and stack it carefully to avoid toppling. Roll (don't fold) large area rugs before storing them.
Kitchen. Wrap glassware in bubble wrap or thick towels and any extra padding you can find to help avoid anything shifting around within boxes. Clean appliances well, and properly tie up their cords for safety purposes.
Use Plastic Bins
Plastic bins are ideal for storing items during a renovation because they are stackable and easy to label. Use clear containers if possible so you can easily see the contents inside.
Rent a Storage Unit
If you have a lot of belongings and limited space, renting a storage unit can be the best option. It may also be wise to seek a climate-controlled storage unit to protect sensitive items (such as electronics, appliances, or wooden materials) from temperature fluctuations.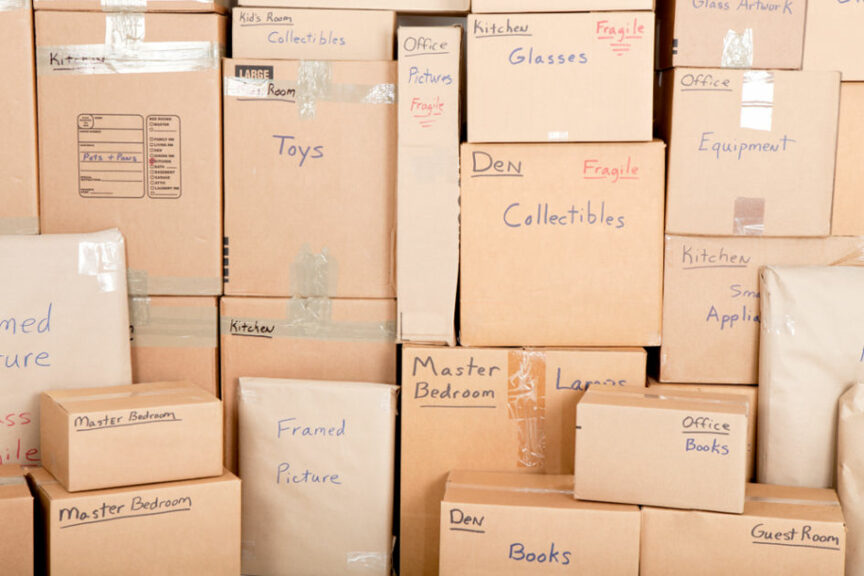 Why Use Self Storage During a Renovation?
Aside from the obvious extra room that a self storage unit can provide amid a home renovation, renting storage space comes with additional perks, whether it's a temporary shelter or a long-term solution for your belongings. Additionally, you can access a storage unit easily, regardless of where you decide to stay during your home renovation.
Convenience
Self storage facilities are often located close to residential areas or main areas in town. They also tend to have convenient access hours from earlier in the morning until later in the evening, making it easy to access your belongings when needed.
Flexibility
At many self storage facilities it's possible to rent and pay for a self storage unit for however many months you need it, depending on your situation. This saves you space and money in the long run.
Organization
Storage units also offer a hand with organization, serving as a dedicated space for household items or even construction materials, tools, and equipment. This helps prevent unnecessary clutter at home as you focus on completing the renovation. Renting a storage unit also means you won't have to lug boxes of disorganized extras to anywhere you may stay as a guest during your home renovation – just pack it all away in your storage unit and move around with greater ease.
Peace of Mind
Your home renovation project may entail external contract workers (in other words, strangers) coming in and out of your home for an extended period of time. Thus, stowing away some personal belongings off-site and out of the way is never a bad idea. A self storage unit provides extra wiggle room and, oftentimes, features like recorded video surveillance and gated storage facility entry, ensuring peace of mind that you have exclusive access to your things.
Find a Storage for Your Home Renovation
Considering a storage unit during an upcoming home renovation? At Access Self Storage, we have self storage facilities located in various cities for our residential customers. We're happy to offer all the boxes, tape, and other packing and moving supplies you might need on-site, too.
When you're ready to reserve more renovation space today, find and rent an Access Self Storage unit near you – we have storage facilities in New York state, New Jersey, and Connecticut! If you run into questions about renting self storage during a renovation, just reach out to your local Access customer service team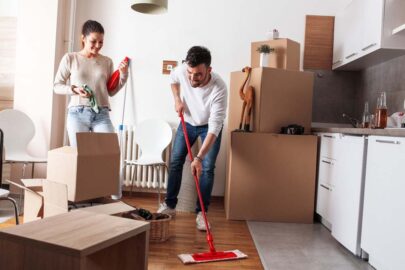 Checklist: Steps to Take Before Officially Moving Out of an Apartment
If you're ready for a change of scenery but aren't sure what needs to be done before you leave, an apartment move-out checklist may be just what you need. Tackling these tasks will help you keep your security deposit and stay organized at the same time. The Access Self Storage team in Woodbridge, NJ, has assisted many storage unit customers manage moves, and we hope these tips help make relocating easier for you, too.
Read