Transform Your Walk-In Closet Into a Functional and Well-Organized Space
Many people dream of having a walk-in closet because it offers lots of room for storing clothes, shoes, accessories, and more. However, it can quickly devolve into a cluttered and...
Home Organization
Many people dream of having a walk-in closet because it offers lots of room for storing clothes, shoes, accessories, and more. However, it can quickly devolve into a cluttered and chaotic mess without proper organization. With our expertise in storage solutions, we offer tons of tips and resources so your walk-in closet is functional and well organized.
In this blog post, we'll take a step-by-step journey to explore how to organize your walk-in closet for optimal functionality. An organized walk-in closet presents countless advantages. It saves you time during your daily routine, reduces stress by eliminating clutter, and makes finding what you're looking for easy. Providing top-notch storage solutions, Access Self Storage has a wealth of knowledge on space optimization and clutter-free living.
Assessing Your Space
Before diving into the task of organizing your walk-in closet, you'll need to assess it thoroughly. Make sure you take precise measurements of your wardrobe and draw a sketch to visualize its dimensions and understand it better. Take a moment to think about its size and layout. The more you know about your walk-in closet's size and design, the easier it will be to find storage solutions that suit your needs.
Try using shelves, hanging racks, or stackable storage units to maximize vertical space. Incorporating organization products and tools into your walk-in closet is a great way to maximize the space. These additions can streamline your storage, from hanging organizers to drawer dividers. If you take the time to assess your walk-in closet and implement storage solutions, you can transform it into a functional, organized space that meets your unique needs.
Sorting and Decluttering
Decluttering and sorting are essential in organizing any space, including your walk-in closet. Sort your belongings into groups like tops, bottoms, dresses, shoes, and accessories. This step allows you to assess the quantity of each category and determine the necessary storage space.
Let go of stuff you don't use or need during the sorting process. You should say goodbye if you haven't worn or used something in a year. Also, consider donating or selling stuff so you don't have to worry about it. You can organize your messy closet into a place that promotes efficiency and calm.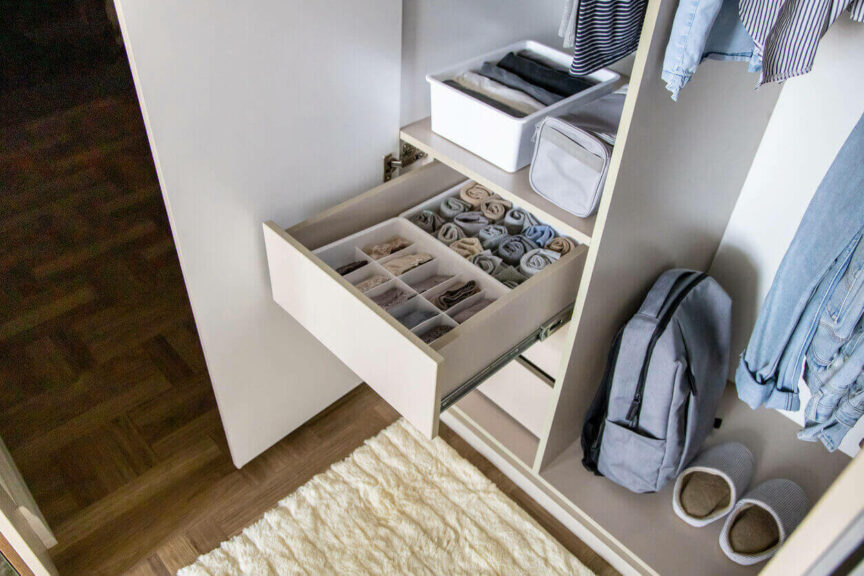 Designing a Functional Layout
Once you've sorted and decluttered your belongings, you must figure out how your walk-in closet should look. Organizing your clothes by creating zones for hanging clothes, folded clothes, shoes, and accessories is good. To keep your wardrobe organized, choose suitable storage systems and accessories.
Everything will have its place, and you'll be able to find it easily. Shelving units, hanging organizers, and drawer dividers can help you customize your closet. You can make a great walk-in closet and maximize space and efficiency by carefully considering your daily routine and maximizing vertical space.
Maximizing Storage Potential
To make the most of your walk-in closet storage, you must use every inch of space. Install shelving or hanging solutions to optimize your closet storage, an effective way to store folded clothes, hats, and handbags.
Also, remember to use corners and doors. You can install corner shelves or hooks on the back of your door. With these options, you can tailor your storage to fit your needs because they offer flexibility. Your walk-in closet can be clutter-free and efficient using creative storage solutions.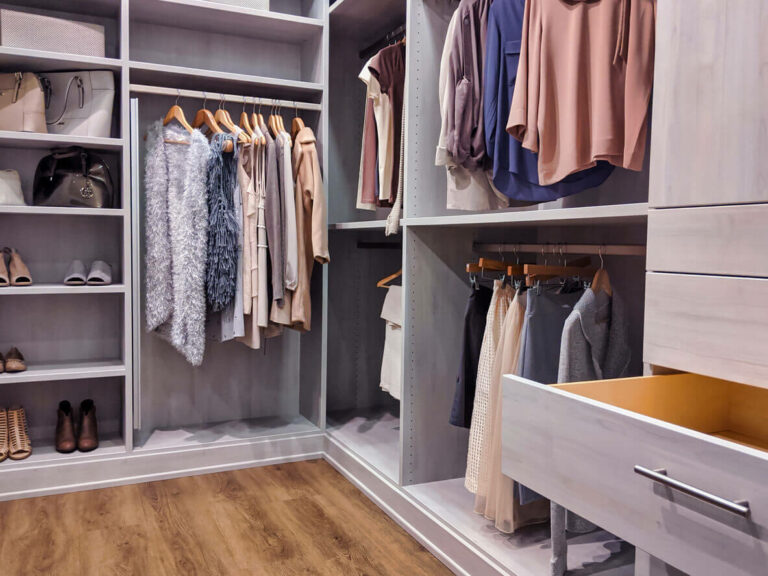 Maintaining Organization
Organizing your walk-in closet is just the beginning. Keeping it clean and functional is essential. Establishing a routine is vital to ensure long-term organization. You can make it easier to maintain an organized walk-in closet if you set aside a few minutes each day or a specific time every week to put stuff back where it belongs. Label items so you always know where they belong.
Use clear storage bins to quickly identify contents without rummaging through them. Color-coded hangers are a great way to categorize and streamline your closet. Maintaining a clutter-free walk-in closet is easy if you practice and prioritize organization. You'll get a functional and organized space in the long term if you do a regular maintenance routine.
Achieve Better Functionality with Access Self Storage
With our tips, you can organize your walk-in closet so it works optimally. Assess your space, sort and declutter your belongings, design a functional layout, and maximize storage. Implementing these strategies and staying organized will make your walk-in closet clutter-free and efficient.
Access Self Storage offers a wide variety of storage sizes, including a 5×5 storage unit equivalent to the size of a walk-in closet—if you need a little extra room. You can declutter and store memorabilia you hide in the back of your closet or seasonal clothing in our secure and well-maintained facilities. It's easy to rent a storage unit from Access Self Storage. Don't wait. Rent a storage unit today!