From Headboard to Box Frame: Your Guide to Moving a Bed
Moving tends to give people a headache. It's a time-consuming task and involves a lot of back and forth. If you're moving a bed, it can feel even more overwhelming with all the different parts to pack onto the truck. Whether you're moving away from or to Long Island City, NY, Access Self Storage is here to make it easy to move your bed without unnecessary frustration.
Moving
How to Move Your Bed
Remove the bedding
Remove all the bedding from the mattress. Fold the sheets and comforters, and place them all in marked boxes for easy identification later.
Set aside and wrap the mattress
Get someone to help you when removing the mattress and the box spring. Cover each item in bubble wrap or another type of protective layer to prevent rips and other damages during the move. Set them vertically out of the way until you're ready to load them onto the truck.
Disassemble and wrap the frame
You may need a screwdriver to take apart the frame. Once you've disassembled it, wrap the individual parts in sheets or bubble wrap to prevent scratch marks and scuffs.
Load everything onto the moving truck
With everything set aside, it's time to load the truck. If you don't have a truck, Access has you covered with a free truck rental. Load the mattresses first since they're the largest items. Pack them vertically to save space in the back. Next, load the frame pieces and then the boxes that contain your bedding.
Organize it in self storage
Once you're at your storage unit, remove the items from the truck. Set the mattress and the box spring against the back wall, followed by the boxes. You can either lay the frame pieces on the floor next to the wall or set them vertically in a corner to save space.
Storage Units: A Bed's Home Away From Home
Moving a bed is easy when you have a simple guide to follow and a place in which to store it safely. For a comfortable storage experience, store your bed and other belongings with us in Long Island City, NY. Our storage units have individual alarms and are monitored 24 hours a day, so there's no worry about when keeping your things stored away for the short or long term.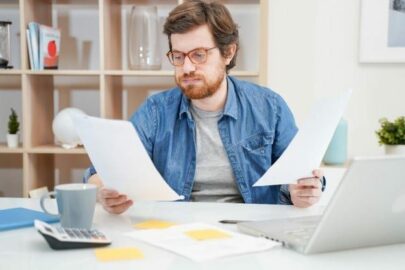 Document Organization To Ensure You're Prepared for Tax Season
Many business owners and individuals in Lopatcong, NJ, dread tax time. If they had proper business storage for their tax documents, they'd have an easier time filing. Whether you're filing taxes for your business or home, Access Self Storage has some tips on how to organize and prepare for the tax season and why our storage units can help.
Read