Tips for College Move-in Day
Whether you're a freshman or getting ready to wrap up your college career, an organized move-in day can help you get a great start to the school year. From pre-move...
Student Storage
Whether you're a freshman or getting ready to wrap up your college career, an organized move-in day can help you get a great start to the school year. From pre-move planning to knowing what to wear on college move-in day, these college move-in tips will help you kick off the semester the right way.
How To Plan for College Move-in Day
You'll need to have your student ID with you at all times, so make finding out where to pick up your ID and keys the first step in the planning process. Your school's website is your friend. Visit it to find these move-in day essentials:
Car ID forms
Move-in routes
Parking restrictions
Campus/parking maps
Move-in appointment times
Instructions for lining up available move-in helpers
Plan for the earliest time possible for a smoother move, and gather all the info you can to help avoid a snafu. You may need to make other arrangements, for example, if you can't move in during one of the designated days or times. It's also a good idea to coordinate your move-in with your roommate to avoid crowding your space.
Pro tip: Discuss where everything will go in advance to avoid rearranging everything after move-in.
How To Pack for College Move-in Day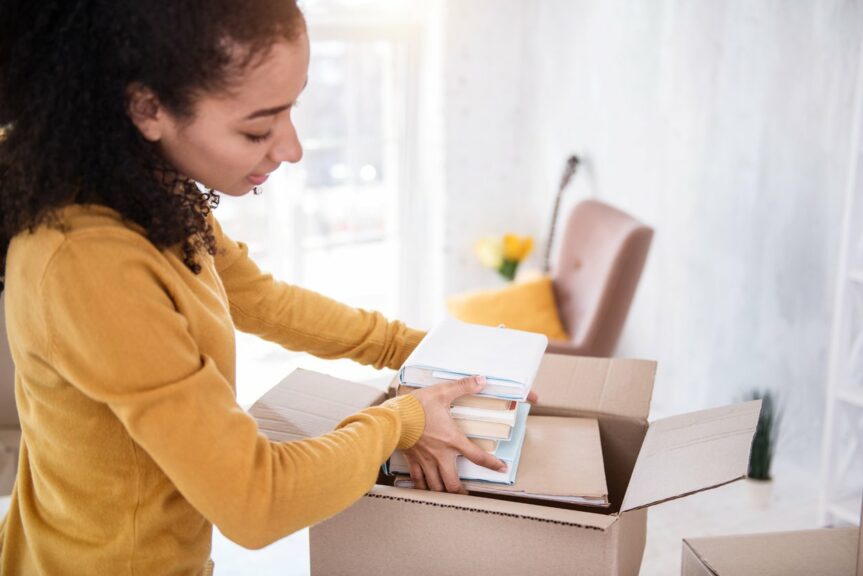 Label moving boxes and containers with their entire contents, and group like items together to make unpacking easier. Stackable storage bins make good alternatives to boxes because they provide a place for your things later. You'll also have fewer items to throw away after the move.
Consider reserving student storage near campus if you lack the room for clunky sports gear, extra clothing, and other space-hogging stuff. Self storage allows you to bring more of your belongings to campus without taking up precious space.
What To Wear on College Move-in Day
Although you probably want to make a good first impression, comfort and safety should be your top priority when moving. Wear comfy clothes that you won't mind getting dirty or even ruined. Ensure they provide enough coverage to keep you confident while bending and crouching. Avoid sandals in favor of comfortable shoes that fit well and protect your toes. You'll have plenty of chances to look good throughout the school year.
What To Bring on College Move-in Day
A fanny pack or mini backpack gives you a place to stash your IDs, keys, a little cash, and a few other essentials. Nothing derails an organized move like losing keys! Here are some other items to bring for your move:
A dolly
A doorstop
At least one fan
Plenty of snacks and water
Pre-moistened body wipes, deodorant, and dry shampoo make for easy cleanup if you plan on going out for a post-move bite to eat. Bring these items in first, along with your toothbrush, toothpaste, and other hygiene basics.
Clothes To Bring for College Move-in Day
You might be tempted to empty the contents of your bedroom at home and dump them into boxes headed for your dorm or apartment. But those notoriously cramped spaces just can't accommodate all that stuff, so you'll need to pare your packing list down to the most important belongings.
If you'll be heading home during school breaks, you can bring only the clothes you'll need for the season. And you can always buy things like face masks, fancy conditioners, and more socks and underwear during the school year. Make a checklist centered on these basics:
Basic toiletries
Underwear and socks
Pajamas or loungewear
Jeans, sweatshirts, and T-shirts
One dressy outfit should suffice for special occasions. You'll probably end up wearing the same comfy favorites to class anyway, so see if you can live with just a couple of pairs of jeans and a limited number of tops.
What To Bring to College for Your Living Space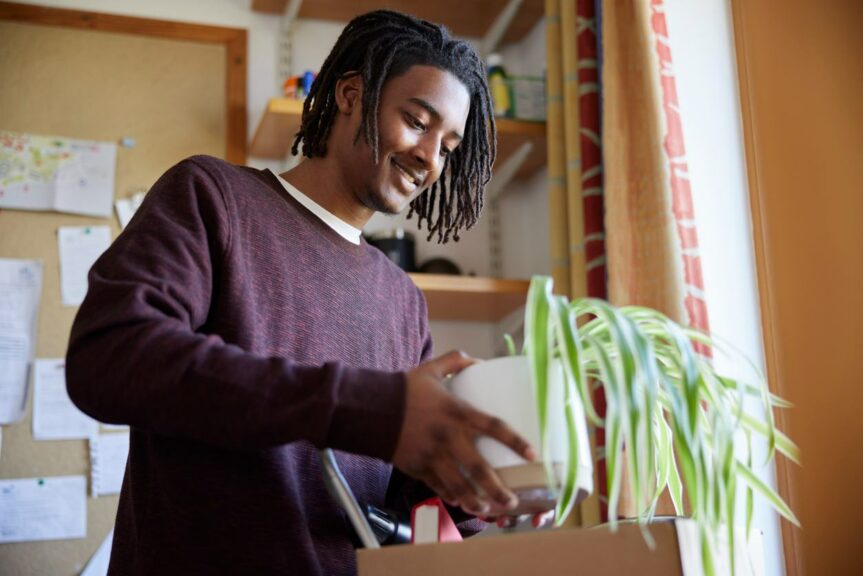 It's a good idea to discuss appliances with your roommate to avoid bringing unnecessary items. However, here are some suggestions for good items to bring to make your living space comfortable and functional.
A coffee maker is good to have and might just save you during finals week.
Electric kettles are great for tea and ramen noodles.
A mini fridge provides enough space for some fresh foods and cold drinks.
You can find inexpensive microwaves at big-box stores.
Stay cozy with an all-season blanket or bedspread.
Bring a few towels and two sets of sheets so you have a backup if you get behind on laundry.
More College Move-in Tips
It would be nice to be able to trust everyone at school, but that just isn't realistic. When moving in, be sure to always have someone in your room to watch your things, and lock your car after every trip. Save time by waiting until you have all your things inside to start unpacking. If you and your roommate want to save space by using lofting beds, check with your university. Many schools only allow you to use the provided lofts.
Be aware of other people's space, and take care to avoid getting in each other's way. You might be tired and hot, but doing things like opening the door for someone or helping with a heavy box can help build relationships that will last well beyond move-in day.
From understanding how to pack for college move-in day to learning which items to bring, knowing what to expect and planning accordingly will help you start off the school year the right way.
Make College Move-in a Breeze With Access Self Storage
We hope these college move-in tips simplify your day and even make it more enjoyable. If you're thinking about using student storage to make your move easier and stay organized throughout the year, Access Self Storage can help. With facilities in Connecticut, New York, and New Jersey, we make it easy to find secure, conveniently located storage units near you. Reserve a unit online now.