Self Storage Auctions: Everything you need to know
With the rapid growth in self-storage use in the U.S. over the past few decades, a new cottage industry has sprung up that's captured the imagination of the masses: Storage auctions! Whether you've read about it in the news or seen TV shows such as Storage Wars and Auction Hunters, few Americans haven't heard about this modern phenomenon. If you're interested in exploring a potential new revenue stream or are simply curious to see what the buzz is all about, read on for detailed answers to some of the most common questions regarding attending storage unit auctions.
Storage Auctions
Why Do Storage Facilities Have Auctions?
Storage auctions become a matter of necessity when individuals leasing units fails to pay rent or abandon their units. When the account is past due for a period of time (stated in the contract), the provider is forced to put a lien on the contents and sell them by auction so they can empty the space for rental and try to recoup the lost rental income. These procedures are strictly governed by state laws and regulations, therefore the specific terms are likely to vary whether the storage auction is in NJ or in another location.
A Few Things to Know About Self-Storage Auctions:
Facilities are required to provide public notice of the lien sale and allow the tenant to pay their outstanding bill and reclaim possessions up until the moment the auction begins.
All profits are put toward the balance due on the account. Anything excess of the amount owed is subsequently returned to the tenant.  The storage facility does not earn a profit on auctions.
Due to the time, expense and emotions involved in selling someone's possessions, facility owners commonly view auctions as an unfortunate last attempt to pay a balance due. In most cases, every attempt is made to return personal items such as family photos, keepsakes and the like to their original owners.
Who Can Attend Public Storage Auctions?
While seasoned auction pros bemoan the increased competition, just about anyone can attend a self-storage auction. At any given event you'll find an eclectic crowd ranging from thrift shop and antique store owners to eBay and Craigslist sellers to savvy personal collectors, treasure hunters and the plain old curious. There are however basic requirements, such as: all bidders must be 18 years of age or older, fill out and sign a registration form and present appropriate legal identification.
How Can I Find a Storage Auction Near Me?
Since storage auctions are required to be announced publicly, finding them is the easy part. Try searching online for phrases such as "storage auctions near me" to find lists of locally schedule events. The real trick is identifying the auctions that are really worth attending, i.e. more likely to contain the type of items you're interested in purchasing. A few strategies for getting a bead on the best self-storage auctions in NJ and across the U.S. include:
Scanning the local classified ads in the newspaper
Networking with other buyers via social media, online forums and groups
Connecting with storage facilities in your area to ensure you never miss announcements
Signing up with a service that specializes in sending out lists of quality auctions
Looking for auctions in higher income areas
What Do I Need to Know About Attending Storage Unit Auctions?
Like most things in life that are worthwhile, the better prepared you are for attending a storage lien sale the greater your chances of success. You'll learn through practice and experience, but the following checklist should cover the basics of being a prepared bidder.
Read the rules and vet all information provided by the facility holding the auction in advance.
Plan on getting to the event early to leave ample time for registration.
Bring cash! While some businesses accept payment by credit card or check, cash is always king.
Be prepared to haul away anything you bid on and win. You'll typically have 24 to 48 hours after purchase to empty the unit.
Have a space for sorting and storage and a strategy for turning your inventory for a tidy profit.
What Happens Once a Storage Auction Begins?
When you arrive at a storage unit auction, you'll be asked to register and join the other bidders in a designated location. During the registration process, the auction host will once again go over the rules before escorting the group to the individual units up for auction. At this point, the unit is either opened by cutting off the lock on the door or otherwise officially unsealed and bidders will have the opportunity to quickly assess the contents. In no circumstance will you be able to physically enter the unit, open storage containers or evaluate items by hand.
Once everyone has had a chance to view the unit, the bidding immediately commences. Be ready, because the action unfolds quickly, often in under two minutes. This process will continue until all of the scheduled units have been sold. In the event you win, you'll be required to make the appropriate payment and follow the agreed upon procedure for vacating the premises.
How Can I Become a Storage Auction Pro?
Judging by the popularity of storage auction related TV shows and the overall uptick in attendance, there's clearly an allure for getting in on the action. However, it's important to remember bidding on self-storage units can be more difficult than it looks. In order to ensure you're ready for the challenge, consider the following tips for storage auction success:
Watch and learn. All the preparation in the world is no substitute for the real thing. Be ready to bid if a "can't lose" situation presents itself—but otherwise stick to the sidelines and keep your eyes open to see how the seasoned professionals go about their business.
Find a mentor. While it might not be in their best interest to give away secrets, making a few friends who know their way around a storage unit auction can be a valuable asset. If you're getting a cool reception, try offering to buy them lunch or lend a hand with loading their truck to get on their good side. At the very least, you'll likely end up hearing some great stories about legendary auction wins and loses and learn a little more about the unique sub-culture and lingo.
Set a budget. Bidding on storage units is nearly always a gamble, so make sure you don't risk what you can't bear losing.
Steady your expectations. As you've probably seen on TV, even the best bidders have bad days. Finding a rare piece of art or priceless antique is virtually one in a million. Most are happy when they see a net profit in the end.
Know what you're looking for. Like the expert who can spot a fake Gucci bag from 100 yards away, study up on what a promising storage unit looks like and learn everything you can about the types of items (such as furniture or photo equipment) you're most interested in. What separates the true winners from the losers is the ability to assess and identify value at a glance.
Perfect Your Method. From the types of auctions you're attending to the way you go about bidding against competitors, it's all about testing and adjustments to develop that winning formula.
Now that you know the basics, it's time to find a storage auction in your local area and decide if bidding on units is right for you.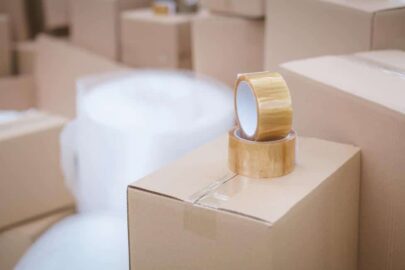 5 Types of Packing Supplies You Might Need for Moving
Ready to read all about the importance of moving boxes? We didn't think so. When you're transitioning to a new home or into a self storage unit, boxes should certainly be one of the first packing supplies on your mind. But what about those other materials that could come in handy and ease your move? Whether you're looking for moving tips or a valuable list of supplies, Access Self Storage has you covered.
Read