How to Store Photos Safely
When you think about it, almost all your material possessions such as electronics, clothing, furniture, even your books and vinyl records, if lost, damaged or destroyed are replaceable. However, that's not the case with your photographs. While we're living in an age in which almost all of our pictures are taken and stored digitally, many of us still have a treasure trove of old printed photos and family collections packed away somewhere in the home. If not stored properly, those photos are at risk of being damaged by physical enemies like moisture, pests and even exposure to adhesives and chemicals found in common photo albums.
Document Storage
How to Store Photos to Keep Them Safe
Scanning those old photos to create digital files is a great way to share and create backups. However, that's not always the perfect solution as scanning large numbers of photos is time consuming and expensive. Even after scanning, digital photos are susceptible to dangers like hard drive failures, accidental deletions, malware and viruses. It's a good idea to preserve your original physical photos whenever possible.
If you're interested in learning how to safeguard your most cherished images of family vacations, weddings, birthday parties, graduations and countless of happy memories, read on for our step-by-step tips for storing old photos.
Step 1: Handle With Care
A crucial first step in old photo storage is protecting images from human hands containing oils and salts that will harm them. An effective and affordable solution to this problem is wearing white cotton gloves while handling photos as you prepare them for storage. These types of gloves are readily available from online sources such as uline.com, and they create a safe barrier between the oils on your hands and any dust or debris that's present on your photographs.
Additional common sense tips to consider when handling photos include:
Refrain from eating and drinking
Don't leave pictures out unattended
Avoid sustained exposure to bright lights
Keep out of very hot or humid environments
Step 2: Organize your Collection
Whether you're dealing with stacks of family albums or piles of loose images, it's important to organize your photos to ensure they're ready to be stored in a safe and logical way. An important first step is to remove your photos from albums purchased at local retail stores made of unsafe materials. Unless they are "archival quality" albums, they may actually be harming your photographs. "Magnetic" photo albums are known to leave adhesive residues directly on images, while vinyl pages often stick to ink and also give off harmful fumes that accelerate fading and discoloration. A general rule of thumb is to avoid storing prints in album pages that have a chemical smell, instead choose materials that are acid-free and specifically designed for archival photo storage.
Once the albums in your collection are safe for use, it's time to decide exactly how you plan to organize your images. This can be done in chronological order, era, type (artistic or candid), occasion (vacations, holidays, sporting events, etc.), size, color or black and white or whatever way makes sense based on your collection. Separate your images, albums, slide sheets and negatives into the chosen categories as you continue to sort until all the photos are classified and accounted for. This exercise will help you identify the best old photo storage methods outlined in the next step. It also lays the groundwork for organizing your archives in a way that makes it easy to find what you are looking for.
Step 3: Choose the Right Photograph Storage Options
When considering the most effective and efficient method of storing old photos, start by asking yourself how often you plan to take them out and look at them. For the photos you view on a regular basis, place them in an archival album or binder. This way, they'll be easy to pick up and flip through when the mood hits you. Remember to look for acid and lignin free album pages that are thick and strong enough to hold the weight of photo prints, steering clear of vinyl, polyvinylchloride or self-stick magnetic products.
For photos you rarely look at or wish to put into long-term storage, an archival file box helps ensure safe, quality storage that will last for the duration. There are many types of archival boxes to choose from, however even the most inexpensive ones will feature buffered cardboard sides with metal reinforcements at the corners. What you're doing is essentially creating a microenvironment that offers protection from UV light, dust, accidents and other risks. The thick walls and secure hinged lid of the box also provides a barrier that deters pests.
Additional tips on how to store photos for a longer period of time include inserting silica gel packets into your storage boxes to remove excess moisture, and also placing photos in clear plastic sleeves to provide further protection from fingerprints, dust, water and other harmful elements. Sleeves should typically be made of either polypropylene or polyester film (also known as Mylar), both of which are suitable for extended storage with the later offering superior viewing clarity.
Visit a website such as www.archivalmethods.com for a closer look at your options in quality archival storage and to find albums and boxes purpose built to meet your specific needs.
Step 4: Label It
Searching for specific photos or albums in a large collection that's not appropriately labeled can be like finding a needle in a haystack. The good news is, if you're using archival boxes and albums specifically made for photo storage, the kit will often provide an index card that slips into place on the box to make it easy to label exactly what's inside.
Another valuable tip for storing old photos is to use color codes or symbols on labels and boxes that will help you more easily identify the specific types of photos within your collection. While labeling can truly be a lifesaver, you should never write directly on the front or back of prints! Ink, marks and etching cause both immediate and long-term damage that's impossible to repair.
Step 5: Choose Your Storage Space Wisely
When it comes to storing old photos, whether in a box or an album, select a cool and dry place. The attic and basement are typically not recommended due to the risk of flooding and presence of mold and mildew resulting from fluctuating temperatures and humidity. For your favorite photo albums, a climate controlled area in the home such as the living room or bedroom where you can access them quickly and easily is optimal. In fact, many photo storage boxes are attractive enough to leave out on a bookshelf or an end table. Just make sure to choose an area where your photos are kept away from moisture and humidity, direct heat and the occasional accidental spill.
The other option is to place the parts of your collection you seldom view in a mini storage unit for safekeeping. Just make sure the facility you choose or your current unit offers year-round climate control, as once again temperature and humidity are primary enemies. It's also smart to designate a space in the self-storage unit specifically for photos and related media, using shelves to keep them off the ground and out of the dust. This way your boxes remain clean and you know exactly where to go when you wish to retrieve particular albums or images.
Final Thoughts on Photo Storage
While most images today are stored, viewed and shared digitally, many of us still cherish our printed photographs. By using these tips for old photo storage, you can ensure the legacy contained in your collection will be preserved and enjoyed for generations.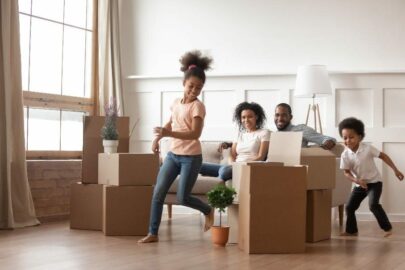 Creative Ways to Reuse Your Moving Boxes
Moving boxes are a necessity for a move. But what do you do with them once they've served their purpose? Some people break them down and store them for a future move. Others get rid of them altogether. If you're looking for creative ways to reuse your boxes, Access Self Storage in Long Island City, NY, has a few ideas to get you started.
Read