5 Ways to Maximize Space in a Studio Apartment
Living in a studio apartment in Haledon, NJ is a great way to save money. Unfortunately, you'll start to feel cramped after a while. Access Self Storage is here with five tips to make the most of the space in your apartment and how our storage units can help.
Decluttering Storage Tips
5 Tips to Get More Apartment Space
Get rid of the clutter.
It's easy to clutter your small apartment when you continue to fill it with unnecessary things. Remove the clutter, and keep only what you need. Sometimes the minimalist lifestyle is the best choice when living in such as a small place.
Rearrange the space.
Maybe you have more room than you thought you had. All it takes is moving things around to make the best use of the space. Consider rearranging the furniture to create a better flow throughout the apartment.
Use the walls to your advantage.
Small apartments only have so much floor space. When you're running out of room, start using the walls as an extra storage area. Shelves, racks, and hooks can give you added space, putting things where you need them but also keeping them out of your way.
Choose the right furniture.
Big, bulky furniture can make a small apartment look even smaller. Invest in tables and chairs with exposed legs, and opt for bookshelves and nightstands that are partially open. It will give the illusion of more space and allow more light to move through the room.
Keep things out of sight.
Storage bins come in handy for keeping things out of sight in your tiny place. They're also stackable, so they won't take up as much floor space. If you can, consider investing in furniture with built-in storage to create more space, such as beds with drawers and ottomans with storage compartments.
Self Storage for Your Studio Apartment
Storage units are the ideal option for gaining extra space when you need it. You can keep things stored away in a unit and maintain a clean, uncluttered flow in your studio apartment. Let Access Self Storage in Haledon, NJ help you select the right unit that fits your storage needs and budget.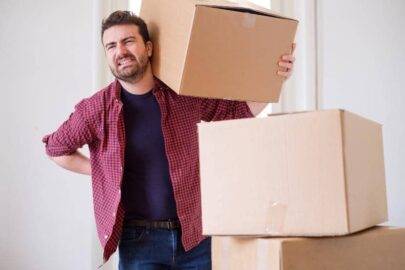 Packing and Moving Mistakes to Avoid
Moving has to rank in the top 10 for the most stressful events in life. Between all the packing and time-sensitive planning leading up to the move, there's not a lot of room for mistakes. Getting ready to move to or from Long Island City, NY, and need some moving tips to get you on the right track? Let Access Self Storage help you make the right decisions when packing and moving your belongings.
Read