Tips for Getting Settled in Your Company's Brand-New Office
Nothing beats watching your business grow – one day you're in a tiny office, and the next day you're moving into a bigger space. But setting up an office requires time and hard work, especially when you have to move in desks, computers and other heavy equipment. Whether it's your first or second office in Saddle Brook, NJ, Access Self Storage has a few tips for storing your items and setting up your new space with ease.
Business Storage
Tips for Setting Up Your Office
Fill the space with supplies.
What's an office without plenty of equipment and supplies? If it's your first office, you might only need the bare minimum to get started. If you're upgrading, you'll need more supplies for your employees. Some common office equipment includes:
Desks and ergonomic chairs
Computers
Printers, fax machines, and copiers
Desk phones
Lamps and decor
Set up important services.
Computers are the brains of today's businesses. They store the information that helps you place orders, keep track of shipping, and handle numerous aspects of your company. You'll need to set up your internet services right away, ideally before you move into the office. Doing this beforehand will ensure it's connected and ready to go on the first day. You should also set up other important services such as your phone and electricity, as well as contact the post office to change your address.
Design the most efficient layout.
A productive office is one with the most functional layout. Open floor plans offer a lot of shared space, whereas a closed floor plan provides more privacy. A modular floor plan gives you the freedom to change the layout as you see fit. Play with various layouts – and maybe even try a combination – to give your employees plenty of space with the right amount of privacy.
Storage Units Provide Extra Business Space
Even large offices run out of storage space. If you need a place to keep extra supplies or unused equipment, Access Self Storage can help. Our storage units at two locations in Saddle Brook, NJ come in various sizes to fit your items and budget. We also provide 24/7 security systems and business solutions to accommodate all your documents, equipment, and other office supplies.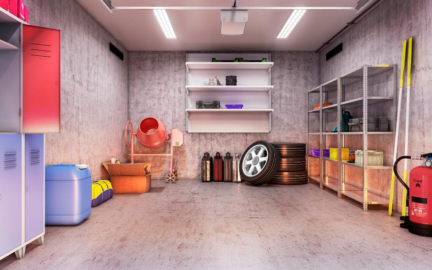 A Guide to Getting Your Garage Organized
Homeowners who live in the suburbs have one thing in common: unorganized garages. No matter if you live in White Plains, NY or across the Hudson River in Congers, NY, you're bound to deal with a messy garage at some point in your life. A garage is more than a place in which to park your car; it's also a common household storage center. Access Self Storage has a few tips on how to keep your garage from looking like a disaster zone.
Read