Self Storage: Your Business Budget's Best Friend
As a business owner in North Brunswick, NJ, you understand how important it is to create a budget and stick to it. Businesses in our service area are always looking for ways to stay cost-effective. With self storage, you can maximize your business' space without breaking the bank. Whether it's for storing inventory or decluttering your office, Access Self Storage is here with tips on how to make the most of a storage unit as you plan your yearly budget.
Business Storage
Business Storage Tips for Budget-Minded Owners
Store excess inventory
Inventory comes and goes, but sometimes you get stuck with more items than you know what to do with. Buying in bulk is more affordable for many businesses, and this is only a good thing if you have a place to put it all. Store your extra inventory in an off-site storage unit to save space in your business and have everything ready to bring into the store when you need it.
Declutter the stock room or the office
Stock rooms aren't always the most organized areas in a business. In fact, they can become disorganized and cluttered when new inventory arrives. As a result, you may become low on space quickly. Instead of continually paying for more in-house space, go with a storage unit to keep your items organized away from your business. In addition, if you have no space for unused electronics or filing cabinets, placing them in storage creates useful space back at the office.
Store seasonal and promotional materials
If you have a neat and organized stock room, the last thing that you'd want to do is to clutter the space with seasonal or promotional materials. Promotions and holiday sales are planned for specific times during the year, so you don't need signs and other items taking up space in your business in the meantime. It's an easy way to hurt your business' efficiency as well. Store your marketing materials in a storage unit to optimize space until a special sale takes place.
Save Money with Business Storage
Self storage isn't only for North Brunswick, NJ residents. It's also for businesses in need of affordable storage space for inventory, promotional materials, and other items outside of their current space. Contact Access Self Storage on Milltown Road for more information about our available storage units. We'll help you to select a unit for your business that helps you stay lean, efficient, and within budget.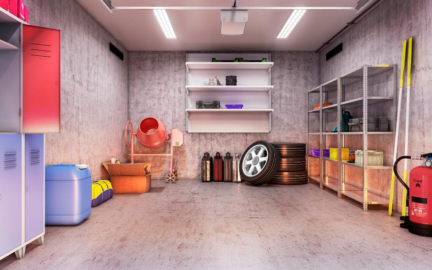 A Guide to Getting Your Garage Organized
Homeowners who live in the suburbs have one thing in common: unorganized garages. No matter if you live in White Plains, NY or across the Hudson River in Congers, NY, you're bound to deal with a messy garage at some point in your life. A garage is more than a place in which to park your car; it's also a common household storage center. Access Self Storage has a few tips on how to keep your garage from looking like a disaster zone.
Read