Access Self Storage of North Brunswick
Rent or Reserve? Renting online saves you TIME and MONEY. Reserving holds a unit for 10 days.
Free Truck for Move-In

Use our truck for free when moving into your storage unit. Call (732) 745-0005(732) 745-0005 for details and to reserve the truck. *Additional fees may apply.

Moving Assistance

We can help you find local movers to assist you with your items. We can also recommend a full-service moving company.

Security

Every unit is individually alarmed. This is the highest level of security in our industry.

Same Rate for 12 Months

We guarantee it. Many other companies will raise your rental rate soon after you move in.

Climate Control

We have units available for your comfort and to better protect your things in storage.

Rent Refund

Ask about our policy for refunding unused rent when you move out. You won't find this benefit at other storage companies.

Wide Driveways

Large trucks can get in and out easily.

Free Package Acceptance

Nice for when you are away from home or running a small business.

Storage Shelves

Rent them for pennies a day. We even set them up for you.

Handtrucks, Dollies, Rolling Carts

Help move your things to your unit.

Boxes and Supplies

Save time and money by purchasing all your boxes and moving supplies at this location.

Business Solutions

Many of the benefits listed here are especially popular with our business clients, at this location.

Community Outreach

We are proud to be involved with the NJ 101.5 Adopt a Family, Rutgers Big Chill 5k, Alborada Spanish Dance Theater, North Brunswick Humane Association, North Brunswick Basketball Association and Milltown Little League.

Community Resources

Access Self Storage is located in the Brunswick Shopping Center. The Dollar Tree is less than ¼ mile away, Hampton Inn is just .5 miles away, Bank of America with an ATM is just 2 miles away and a great place for a bite is Omega Diner which is only 1.5 miles away.

Month to Month Rental

All of our rentals are on a month to month basis with no long term commitment required. Stay for as long or short a time as you like.

Free Lock

Use our special locking devices for enhanced security.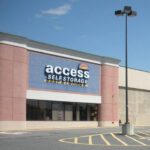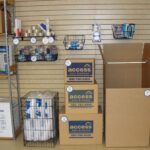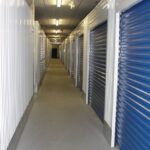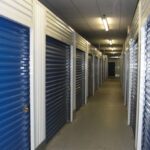 "I really can't say enough good things about this storage facility, They are professionnal, helpful, the space is very clean and after leaving my entire life in their units for 6 months, I came back to everything perfectly in place and immaculate. Their prices are fair and they are really top notch compared to every other place I have ever dealt with. Hands down a positive experience!!!"

LD - North Brunswick
"I've used Access Storage since 2008, so I'm very familiar with the staff and the facility. I haven't had a problem with insects, smells, or erosion of any kind. I chose Access because it's climate controlled, well maintained and they make it super easy to store items. From the use of their "free" truck, to a variety of sized storage units. And now, you can pay online which is very convenient. The staff is friendly, helpful. I wish they had a moving service too!"

Minerva F - North Brunswick
"Clean, well-maintained storage place with friendly and helpful staff! I used storage here for a short time while my basement was being treated for mold, and my girlfriend used storage for more than a year for both work and household items. Both of us had a great experience with Access Self Storage. The staff are friendly, and will do what they can to help you. You can use their truck for free (except insurance) for move-in, and very cheaply for move-out (about $40 for 4 hours including insurance). The truck was in very good shape - better than any U-Hauls I have rented over the last few years. They have many different sized units at different prices. The prices were comparable per square foot to the other places I checked. Units are clean and well-lit. Security seems to be very good; you have to punch in a code to enter, and if you punch in a code for a different unit than you open, it sets off an alarm (so be careful if you have more than one unit rented!). I have been there late at night when the office was closed and felt safe. The storage units are all indoors and climate controlled, which makes them a little harder to load and unload but is worth it to protect your indoor stuff, I think. Mine were on the first floor, which is actually a little bit under the level of the parking lot. There is a long ramp to get to the storage units. They have lots of carts that you can use to move things around and you can load and unload a truck or your car close to the door, so it was very convenient. I had by-the-hour moving help, and they said it was easier than dealing with an elevator. They were able to sell me boxes for my storage at the same rate as online companies (before shipping) and much cheaper than the local office supply stores, with was a bonus. When I found that out, I bought all my boxes from them. Overall, I had a great experience with Access."

Vic T - North Brunswick
"I don't really have much experience with storage facilities, but the time I've been using Access Self Storage thus far has been amazing. My boyfriend and I needed a place to keep our stuff while we downsized and I moved to graduate school, and Access had everything we were looking for. The units come in a wide array of sizes and are all indoor, very clean, and seem super dry. The staff is incredibly knowledgeable and really incredibly helpful. When you lease a unit, you get the opportunity to use their moving truck for FREE! That was a huge plus, and the day we wanted to borrow it because no one else had scheduled it for that day we were allowed to take it 3 hours earlier than our allotted time, yes! Overall, I feel like our stuff in incredibly safe and well looked after while being stored here at Access Self Storage. I wouldn't hesitate to recommend it to anyone else I know looking for a unit in the North Brunswick Area."

Lindsay L - North Brunswick
"I rented a storage unit yesterday. Rahim, the store manager, assisted me. He was courteous, informative and flexible. The price was the best price for this unit plus they gave me a free truck rental. This location has all of their units on the same floor and it was a piece of cake to move in with their accessible ramp. I would definitely recommend Access Self Storage in North Brunswick!"

Yudeca S - North Brunswick
---