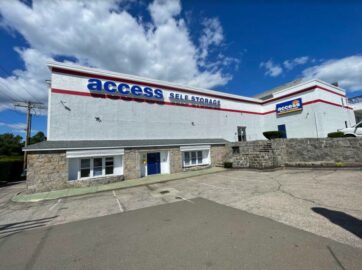 Managed by Access Self Storage
Self Storage Units in Bridgeport, CT
Alarm System
Dollies and Carts Available
Ground Level Entry
Indoor Loading Area
Moving Supplies Available For Purchase
Penske Agent
Office Hours:
Mon - Fri

9:00am - 6:00pm

Sat

9:00am - 5:00pm

Sun

10:00am - 4:00pm
Access Hours:
Mon - Sun

6:00am - 11:00pm
Dollies and Carts Available
Moving Supplies Available For Purchase
Self Storage Units in Bridgeport, CT
Feeling cramped in your Bridgeport, CT, home or business? Before you get rid of belongings you still need or use, head to Access Self Storage on Boston Avenue. We offer residential and commercial storage units to help you create the space you need for your move, renovation, or decluttering project.
Located by Captain's Pizza House and the Bayview Shopping Center, Access Self Storage offers a wide variety of storage unit sizes, ranging from 5×5 units to extra large 10×30 units. You can create more room in your closets, or store equipment, documents, and other assets with business storage in Bridgeport, CT. Find out more about our Boston Avenue self storage solutions below.
Affordable Self Storage in Bridgeport
Making room in your living space or workplace shouldn't require penny-pinching. At Access Self Storage, we make storage units affordable with our flexible payment options and month-to-month leases. If you need your unit for the summer while you're home from Sacred Heart University or you need more space while you move to your new home in North Bridgeport, we're here for you. Ask our storage professionals about our moving assistance resources such as free truck rentals, dollies, handcarts, and more.
Ran out of boxes or tape? Save yourself a trip to the store with Access Self Storage! We have a wide selection of moving supplies available for purchase on-site. Just swing by our office during business hours and we'll set you up with the supplies you need.
Secure Boston Avenue Storage Facility
Peace of mind is key during any move, renovation, or home organization project. While we may not be able to help you decide which clothes to keep or which wall to knock out in the kitchen, we can help you confidently store your belongings.
Access Self Storage provides several security measures, including digital video surveillance, in-unit alarm systems, and a well-lit property. We'll also give you a free lock and key when you rent a unit. Contact our team to learn more about our storage security features!
Reserve Your Self Storage Unit in Bridgeport, CT
When you need more room in Bridgeport, CT, choose Access Self Storage. Our Boston Avenue facility is conveniently located near several communities and areas of interest, including Reservoir – Whiskey Hill, Brooklawn/St. Vincent, East Side, and the Enterprise Zone. Ready to choose a storage unit? Browse our unit size guide, explore our helpful storage tips, or rent or reserve your storage unit online today!
What Our Customers Are Saying
Excellent customer service made my process so much easier . I really commend Imani she really made my process so much better with her care and concern for my ne... Read More
Excellent customer service made my process so much easier . I really commend Imani she really made my process so much better with her care and concern for my needs .
Millie Blessed
 1 day ago
IMO NI was great!! She helped me get what I needed quickly. She explained everything to me, and she was very friendly!!! Thank you!
Isabel Modaffari
 11 days ago
Great staff, affordable price, clean facility.
Sal
 28 days ago
Year went by and all went well. This is all I hoped for.
Alexander Channel
 1 month ago
Excellent staff and service. Reasonable rates.
EDWARD SCHWARTZ
 7 months ago
Benjamin Rodriguez
 5 years ago