Find a new home for your stuff at Access Self Storage
Showing 1 Access Self Storage Locations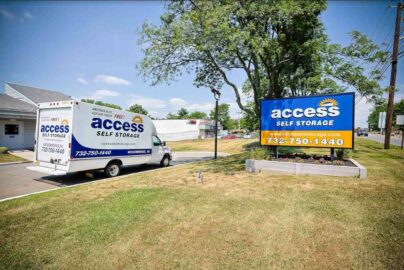 Climate-Controlled Storage in Woodbridge, NJ
In addition to its dynamic lifestyle, beautiful natural parks, and numerous attractions, New Jersey is known for its unpredictable weather patterns. If you're a resident or business owner in the Woodbridge area, you've likely encountered these climate fluctuations.
You might be wondering how to maintain the condition of your valuable possessions from the effects of extreme temperature and humidity shifts. The solution lies in climate-controlled storage offered at Access Self Storage in Woodbridge.
Climate-controlled storage units maintain a consistent temperature range throughout the year. This specialized feature ensures that items like electronics, wooden furniture, antiques, and sensitive documents remain in optimal condition.
This guarantees the safeguarding of your possessions, regardless of the external weather conditions. If your goal is to safeguard your belongings in Woodbridge's ever-changing climate, climate-controlled storage offered by Access Self Storage is the ideal choice for you.
Find Climate-Controlled Storage Near Woodbridge, NJ
At Access Self Storage, our climate-controlled storage units offer a sense of security. Assuring that your belongings are maintained in excellent condition, no matter the external weather circumstances.
With climate control at your service, you can enjoy peace of mind and concentrate on more pressing matters. With Access Self Storage facilities located in various areas across New Jersey, locate your nearest facility and discover the ideal residence for your cherished belongings!
Secure your possessions in a modern climate-controlled storage unit at our Access Self Storage facility in Woodbridge, NJ! Rent or reserve your storage unit today, and for further inquiries on climate-controlled self storage, feel free to give us a call.
Frequently Asked Questions (FAQ)
Do I need a storage unit with climate control in Woodbridge, NJ?
New Jersey experiences four distinct seasons, with hot summers and cold winters. Climate-controlled storage units help protect your items from extreme temperature fluctuations, which can be especially important for sensitive items like electronics, wooden furniture, and fragile belongings.
These units not only regulate temperature but also humidity. Climate control helps prevent these issues, which are more common in areas with varying climate conditions. Rent your climate-controlled storage unit with Access Self Storage today!
What can I store in a climate-controlled storage unit in Woodbridge?
Items like antiques, artwork, musical instruments, and collectibles are often sensitive to temperature and humidity changes. Climate-controlled storage helps preserve the condition and value of these items over time.
Furniture made of wood and leather can warp, crack, or develop mold in extreme weather conditions. If you need to store important documents or paperwork, climate control helps prevent documents from deteriorating due to temperature and humidity fluctuations.
No matter what temperature-sensitive item you have, climate-controlled storage at Access Self Storage is your premier storage solution in Woodbridge, NJ.
How do I rent climate-controlled storage in Woodbridge, NJ
If you're considering the rental of a climate-controlled storage unit in Woodbridge, NJ, Access Self Storage is your destination of choice! Our climate-controlled storage units are designed to ensure the safety and preservation of your belongings during their time in storage.
Feel free to call us for any inquiries or uncertainties, or use our online rental system to secure your climate-controlled storage unit today.