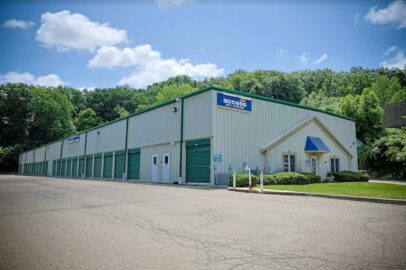 Self Storage Units in Oakland, NJ
Access Self Storage
21 Raritan Rd
Oakland, NJ 07436
201-337-8646
Unmanned Facility
$ First Year Rate Guaranteed
$55 Referral
24-Hour Access Available
Boxes - Order Online
Climate Controlled Units
Community Outreach
Access Hours:
Mon - Sun

5:00am - 12:00am
Kiosk Hours:
$ First Year Rate Guaranteed
No rate increases for your first year!
$55 Referral
When your friend rents, we pay you $55.
24-Hour Access Available
For Drive-Up units and parking spaces only.
Boxes - Order Online
Curbside Pickup. Everything you need for packing is here.
Climate Controlled Units
Extra protection for your things. More comfortable for you.
Community Outreach
We are proud to be involved with the Ramapo Valley Animal Shelter, Ramapo Soccer Club and Angels for Animals Network.
Community Resources
We provide storage services to residents of Butler, Wayne, Paterson, Lincoln Park, and Waldwick.
Dollies and Carts Available
Help move your things to your unit.
Drive-up Access
Unloading directly into your storage unit makes moving in fast and easy.
Environmental Support
Altogether our solar panels reduce CO2 emissions by over 25,000 tons per year. That's the same as planting over 600,000 trees.
Free Lock
Saves you $15 to $20.
Free Truck Use
Use our truck for FREE for half a day on move-in. We pay the gas. You pay the insurance. Call facility to reserve.
Kiosk Available
Self Service Rental & Payment Kiosk available onsite from 8:00am – 7:00pm.
Month-to-Month Leases
No long-term commitment.
Parking Spaces
Park your trucks, or cars within locked and secured gates. Rent your space month to month.
Security Monitoring
Your storage unit door has its own separate alarm. You control the code. Get this highest level of security only at Access.
Storage Shelves
Rent them for pennies a day. We even set them up for you.
Find a new home for the hiking gear you bring to Ramapo Lake Trailhead or Campgaw Mountain Ski Area by renting Oakland self storage! Here at Access Self Storage on Raritan Road, just moments away from I-287 and Route 202, we have storage units in Oakland that can be used for everything from personal storage to business storage. We also have parking storage spaces for boat, RV, and car storage in Oakland, NJ.
For the residents and businesses in Crystal Lake, Franklin Lakes, Haskell, Wanaque, and beyond, Access Self Storage is here with a variety of storage units near you. Find our facility a short distance off Ramapo Valley Road, where you'll see us next to Relay Specialties, 84 Lumber, and Wall Athletics. Go past Oakland Giant Farmers Market and Dollar Tree to reach Oakland Storage on Raritan Road at Access Self Storage.
Secure and Affordable Storage Units in Oakland, NJ
When you rent Oakland business storage, personal storage, or vehicle storage, you can have all the peace of mind you want. Our affordable storage units in Oakland have several secure features to enjoy. Each unit is individually alarmed, and you're the one who decides on and controls the code. We also provide you with a free lock for your Oakland storage!
Top-quality security features aren't all we offer with the storage units in your area. We also aim to provide the greatest convenience. When you rent one of our local storage units, you can enjoy 24-hour storage access, which means your belongings are never off-limits.
RV, Boat, and Car Storage off Raritan Road
When there's a spare vehicle occupying the valuable space in your garage, driveway, or parking lot, you don't have to worry about trying to work around it. Instead, rent car storage in Oakland at Access Self Storage! Our parking storage spaces are also here when you need boat or RV storage. With month-to-month leases, affordable storage rates, and such a convenient location, renting car storage near you doesn't get easier.
Student Storage Near Ramapo College of New Jersey
Finding local storage facilities near Ramapo College of New Jersey, Aureus University, and Montclair State University is no challenge when Access Self Storage is here to provide storage for students in Oakland, NJ. Storage in Oakland can be just what you need at the end of a busy semester.
Throw all your college supplies and dorm room decorations into student storage before you hit the road to make the most of your break. Access Self Storage is an excellent option for student self storage thanks to our flexible leases and low rates, especially if you're on the hunt for cheap storage places close to your campus.
Climate-Controlled Storage Near Ramapo Lake Trailhead
In addition to offering 24-hour storage near you, we also have a wide variety of climate-controlled storage units in Oakland. From Allendale and Ramsey to Mahwah and Wyckoff, you can rent climate-controlled storage near you that's affordable, convenient, and well-suited to storing your sensitive belongings. Gives the clubs you take to the Darlington Golf Course a more stable storage space by renting a unit at Access Self Storage.
Rent Your Self Storage Unit in Oakland, NJ, Today
Renting self storage near you or car storage in New Jersey is easy at Access Self Storage. Our clean storage facility is just off I-287, perfect for quick visits on your way home or during your commute to work. Rent clean storage in Oakland, NJ, today. Use our storage unit size guide to determine the best fit for your needs, then rent or reserve a storage unit online to get started.
Didn't Find the Right Storage Unit?
We offer many local storage solutions across the state at all of our storage facilities in New Jersey, or browse our facilities near Oakland, NJ:
What Our Customers Are Saying
Wow, this place is amazing! It is so neat and clean and you practically do everything yourself. Just show up, access their computer, type your name, plop your i... Read More
Wow, this place is amazing! It is so neat and clean and you practically do everything yourself. Just show up, access their computer, type your name, plop your id into the machine, pay for the size you desire and the key pops out of the machine and you are on your way to storing your belongings. Everyone that I spoke with was so helpful, detailed and professional. Mucho props...place runs very smoothly.
Allison
 4 months ago
great service, everyone is always helpful.
Jim Maggio
 4 months ago
Very nice people and they are very helpful
Mike Spadaro
 6 months ago
Good, climate controlled storage. Friendly and helpful staff.
Jeff Novak
 2 years ago
I had a great experience with Dana. She was absolutely wonderful with helping me get my storage space. I recommend Access for any storage big or small.
Richard Baggs
 4 years ago
Great facility! Made moving a lot simpler.
Samantha Bunone
 4 years ago
My first experience using a storage unit was amazing. I would highly recommend this place. Customer service is top notch. Thank you Chris for all of your help.
Beverly Riemer
 4 years ago
I was impressed by self service at the kiosk! Well organized, clean inside and so easy to access
yevgen shpylyevy
 4 years ago
I was impressed by self service at the kiosk! Well organized, clean inside and so easy to access
Eugene Shpilevoy
 4 years ago
We are happy with the storage unit we are renting. It clean + convenient its only 10mins from home.
Steve Viviani
 6 years ago
This is a very clean, self running facility and the owner is very pleasant.
Bartosz Klemensowski
 6 years ago